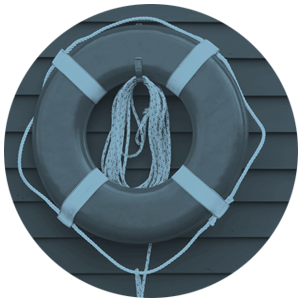 Is there a 'man overboard' in your family? Family therapy can help bring people safely back on board and sailing back to calm waters.
Families are more than a group of people related by blood or marriage. They are a unique bond of personalities and culture. Families grow and shrink and blend. The changes to families are constant and sometimes chaotic. It is when things get a little chaotic or difficult that many families turn to family therapy (a.k.a. family counseling).
Family therapy is a form of therapy that addresses the entire family structure. Family therapy looks at the social structure within the family, how the family communicates, and takes into account the different values and personalities contained within every family unit. Therapy then addresses where and why families may have difficulty interacting with each other.
At my practice, Healing Harbor Counseling, PLLC, I understand that the family dynamic is something special and unique. As a therapist I also understand that a family unit is something that deserves nurturing and compassion from each member of the family, regardless of position or age. As a family therapist I work with families to let them rediscover how to interact with each other in a loving and caring way.
Families who are facing a crisis, or those who are struggling to keep peace in their homes, are encouraged to make an appointment with me. I will help you and your family rekindle the joy of being a family while discovering what is causing the issues your family unit is currently facing.
If you are unsure if family counseling will help, please schedule a free 15-minute consultation. I provide these consultations by phone to explore what counseling can do for your family:
For quick answers to common questions about this type of therapy, I encourage you to keep reading …
What Is Family Therapy?
Family therapy is a type of therapy that addresses the entire family dynamic. As a group, we will explore how the family interacts, expectations of family members, and desired outcome from the therapy. Family members will also learn new ways to interact with each other that is compassionate and caring instead of demanding or demeaning.
Family therapy gives each member of the family a chance to grow as an individual. Therapy also provides the family as a whole a way to grow together and learn from and love each other. It is a way to step back from the chaos and remember that you are a group of people who love and care for one another.
Who Is A Good Candidate For Family Therapy?
Any family that is facing difficulties is a good candidate for family counseling. Your family does not have to be in crisis to benefit from family therapy. However, if it is, I can still help. As a your therapist I have the ability to help your family get through these tough times and find a better tomorrow.
Your family does not have to be a specific size, a specific age group, or have specific problems to benefit from family counseling. All there needs to be is a desire to build a stronger, more caring, and happy family.
How Does Family Therapy Work?
Family therapy works very similar to individual or couples therapy. We begin by looking at who the individuals are that make up the family and then we look at the problems that the family is facing as a whole. From that point we move towards rebuilding the family relationship.
Every family will have unique problems and concerns. Because of this, I tailor counseling to meet the needs of each family. I do not use a 'cookie cutter' approach to any therapy session because everyone, and every family has different needs.
Through therapy, each family member will address the issues that concern them and work towards a family goal. In the end, the family will be able to communicate and relate to each other in a more compassionate and caring way.
What Are The Benefits Of Family Therapy?
The benefits that each family will receive from participating in family counseling are numerous. Some of these benefits include:
A better understanding of each person in the family and what is important to them
A new look at what it means to be a family
A new way to communicate with each other that is beneficial and not abrasive
A realization that families are made up of individuals to create a unique and beautiful unit
Many of the benefits that are received during family counseling are on a very personal level.
How Long Does Family Therapy Take?
At Healing Harbor Counseling, PLLC, I do not place time limits on counseling. Every family will have their own needs and goals that must be reached.
Getting Started with Family Therapy in Colorado Springs, CO
If your family is having a difficult time communicating, if everyone seems to be unhappy, or if your family is facing a crisis, please, do not hesitate to contact me. I am available for your family and I will gladly work with you and your loved ones until your goals have been reached: